Shit That's On The Internet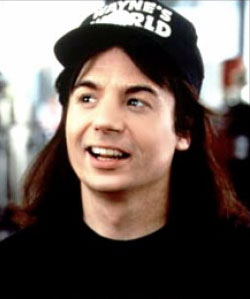 I forget if I mentioned this already, but a few months ago I traveled to scenic Las Vegas to attend a celebrity impersonator convention for Current TV, the popular television network. It was a fun and scary time for me and- I'm guessing- for a lot of other people in attendance. There were at least three Mike Myers impersonators, which is roughly three more than you might expect to run into in life. Anyway,
here
you can watch me interview a guy who looks so much like Mike Myers it kind of freaks me out. I hope you enjoy it so much. Dammit.
Speaking of the magic of the Internet and the possibility of watching stuff on it, a friend of mine sent the above video and I got quite the kick out of it. The guy who made it, Lasse Gjertsen, whom I assume to a foreigner based on his name and hair, did by editing a bunch of video together in a magical fashion. Good times. I am singling him out and commending him. Usually I'm all like "Fuck the Internet," but not this time, dammit. Not this time.
Dave Hill