Guttenberg!: The Man
As hinted at in the previous post, last night I opened up for the excellent
Inside Joke
show over there at the Upright Citizens Brigade Theatre on 26th Street. It was fun times. Host and close personal friend Carl Arnheiter's guest last night was Steve Guttenberg, star of such films as "Police Academy" (a bunch of them), "Short Circuit," Cocoon," "Three Men and a Baby," "Three Men and a Little Lady" and a bunch of others besides those. Steve was very charming and likeable and looks just like he did in all those movies I mentioned in the previous sentences.
Unfortunately, I had to miss the tail end of the show because some friends were in town from Cleveland and wanted to catch the Cleveland Cavaliers playing the Detroit Pistons in the NBA playoff-type things. I hadn't watched a basketball game in a long time though, so that was fun times too. The Cavs lost, so that was negative but I did get to have some chicken wings. Also, I was happy to see that the Cavs ditched those teal jerseys that they had back in the '90's (a time when every sports team seemed to be changing at least one of their team colors to teal for reasons I will never understand. Something about merchandising, I'm told.) in favor of the maroon and gold-based jerseys they had back in the days of my youth when anything seemed possible. The basketball players had better hair back when I was a kid too as I recall. That is something the current Cavs players might consider working on in the off season. Look at '70's Cavs player Bingo Smith for example. We could all learn a lot from him and his hair: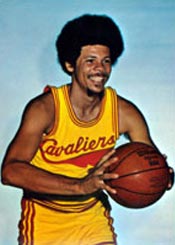 Keep up the good work, Bingo, wherever you are.
In other news, today is Friday and anything seems possible. I should probably get things started by taking a shower though. Am I right or am I right? Okay then. That is all for now.
Dave Hill